Meet Mark Herman & Katie McDowell
Since 2005, Mark Herman and Katie McDowell have placed as 1 of the Top-10 mortgage brokers (of more than 100 offices and 1,800 agents) at Canada's largest super-brokerage, Mortgage Alliance. In 2013 they were the #1 mortgage office in all of Canada, based on the total value of funded mortgages.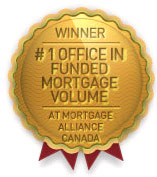 Mark has 15 years of professional customer service experience at companies large and small including 3 years as an Enterprise Account Executive at Hewlett Packard (HP). He earned a Bachelor of Commerce with a major in economics from the University of Calgary in 1992. In 2003 Mark completed his Master's degree in Finance from Herriot-Watt Business School at the University of Edinburgh in Scotland, which is regularly rated as one of the top-10 business schools in the world by the Economist magazine. He is the only mortgage broker with an MBA originating mortgages in Canada.
Mark is a regular speaker and presenter on economics and mortgage data throughout Canada.
He is often quoted in the media because of his knack for translating economics and data into information that can be used by investors and purchasers in their decision making processes.
Katie McDowell was a Senior Mortgage Escalation Officer at a bank for 10 years. She has 20 years of mortgage experience and has underwritten more than $18 Billion in residential mortgages. Together they head a team of full-time mortgage professionals and complete both residential and commercial mortgage transactions all across Canada.
A noteworthy team member is Phil McDowell, the 2008 President of the Alberta Mortgage Broker Association (AMBA). He has more than 30 years of banking experience, was the Western Canadian Regional Manager for Mortgage Alliance and the broker of record for more than 400
mortgage agents.
Remember, when working with us:
There is no cost to you for our services as the banks pay us for doing their work,
You get our professional, un-biased advice & expertise on your mortgage,
We answer our phones and emails, 7 days a week, from 9 – 9, including holidays,
Your rate will be lower with us as we deal through "broker services" at the banks.
---
Mark Herman; AMP, B. Comm., CAM,  MBA – Finance | Mobile: 403-681-4376
Katie McDowell – Accredited Mortgage Professional (AMP), Broker of Record
2013: #1 Office in all of Canada: Total $ Volume in Funded Mortgages
@MortgageAlliance | www.MarkHerman.ca